Kupujte na rate
Debitnim karticama Banca Intesa

Kojim karticama?

DinaCard debit
Visa Inspire
Visa Platinum
Visa Infinite
Broj rata i naknada?

Maksimalno 12 rata
Uz naknadu koja zavisi od vrste računa
Limit za kupovinu?

Max. limit u visini jedne mesečne zarade, ne veći od 300.000 RSD
SAZNAJTE VIŠE
One-time password by SMS
Confirm transaction by one-time password and enjoy the benefits of online shopping.
The highest level of protection provided for electronic payment
Authorize your transactions in only a few seconds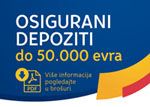 Deposit insurance
The Bank participates in the system of compulsory deposit insurance established in the Republic of Serbia.
Napomena
* Klijent redovno prima zaradu/penziju preko platnog računa u Banca Intesa duže od 6 meseci u nepromenjenom iznosu ili bez značajnih odstupanja