Banca Intesa electronic banking
A new banking experience
Innovative
New functions, new possibilities
Always available
All you need is a device of your choosing
Simple
Pay in just a few steps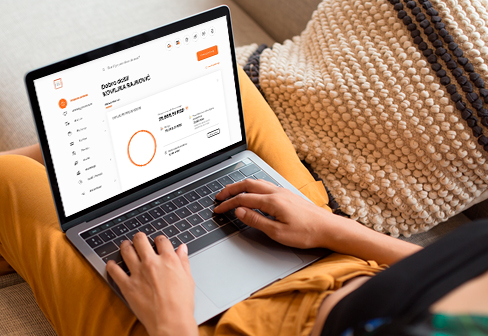 How to switch to the new digital banking app?
New application, new functionalities in just a few steps.
Logging into Banca Intesa electronic banking
Logging into Banca Intesa electronic banking
You can log into Banca Intesa electronic banking by simply selecting Login in the upper right corner on the official page of Banca Intesa.
Logging in is done with a mobile token #withKEY
Find a #withKEY function on the pre-login screen of the mobile app. Enter your PIN or use biometric scanning in order to create a simple one-time password. Afterwards, on your desktop screen, enter a User number from #withKEY in the Username field. Afterwards, enter the generated #withKEY code in the One-time password field.
After the first application, the Smart login screen will be displayed. By activating this option, you will no longer be able to enter a User Number. By selecting the Send notification option, you will simultaneously receive an automatic message on the mobile device on which you are using the Banca Intesa mobile app, in the form of a Login request for Banca Intesa electronic banking. Open the automatic message and enter the PIN/biometric data for the Banca Intesa mobile banking app.
After the first Smart login, the Banca Intesa mobile app links to Banca Intesa electronic banking and thus enables access.
App reactivation
App reactivation
Download the Banca Intesa mobile app at the App Store or the Google Play Store.
In order to initiate the Reactivation process, you need the following:
User number (this number is created during the first app activation and it is located in the Digital Banking Contract)
Recovery code (created during the first activation)
These two codes are a prerequisite for the Reactivation process.

Steps for Reactivation are as follows:
Install the Banca Intesa mobile app
Swipe the screen to the right and select the "New client registration" option,
Enter the User code and the Recovery code,
Enter the activation code you received via SMS,
Create a PIN code for logging into the app,
Accept the stated terms,
You may start using the Banca Intesa mobile app.
Personalize your experience with the bank
Personalize your experience with the bank
Banking in your own way. From now on, you will be able to personalize the digital banking option, activate additional functions and adjust your profile according to your needs.
Enable the Fast transfers function and transfer money between your own accounts, without the need to authorize each individual transaction;
Select the desired account, deposit or credit you wish to have on your Main view;
Turn on the Fast balance overview and check the current balance of your selected account without logging in;
Control Notifications and decide which notifications you need to monitor daily finances. You can find more details regarding Notifications HERE.


All in one place
Cash loan application and realization
Payment account overdraft
Transaction overview
Payment in foreign currency
Paying bills
Setting a future date for payment orders
Creating and cancelling a standing order
Managing the payment card spending limit
For new users
Activate the digital banking service
Documents

You need a valid ID card

Activation

After opening the payment account, activate digital banking
List of branches

Find the Banca Intesa branch closest to you
HERE